Walt Whitman's "Song of Myself" with a Complete Commentary (2016)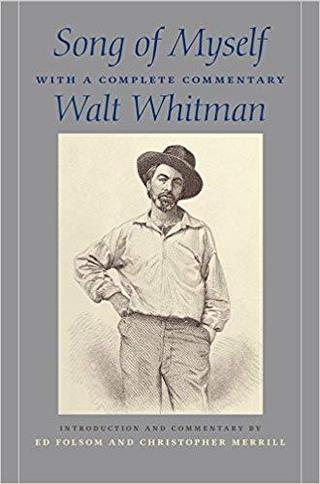 This book offers the most comprehensive and detailed reading to date of Song of Myself. One of the most distinguished critics in Whitman studies, Ed Folsom, and one of the nation's most prominent writers and literary figures, Christopher Merrill, carry on a dialog with Whitman, and with each other, section by section, as they invite readers to enter into the conversation about how the poem develops, moves, improvises, and surprises. Instead of picking and choosing particular passages to support a reading of the poem, Folsom and Merrill take Whitman at his word and interact with "every atom" of his work. The book presents Whitman's final version of the poem, arranged in fifty-two sections; each section is followed by Folsom's detailed critical examination of the passage, and then Merrill offers a poet's perspective, suggesting broader contexts for thinking about both the passage in question and the entire poem.
Buy it on University of Iowa Press, Amazon, and Barnes and Noble.