Flash Fiction International: Very Short Stories from Around the World (2015)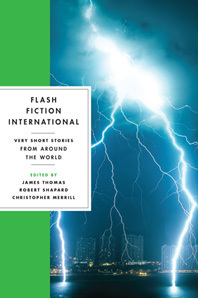 A dazzling new anthology of the very best very short fiction from around the world.
What is a flash fiction called in other countries? In Latin America it is a micro, in Denmark kortprosa, in Bulgaria mikro razkaz. These short shorts, usually no more than 750 words, range from linear narratives to the more unusual: stories based on mathematical forms, a paragraph-length novel, a scientific report on volcanic fireflies that proliferate in nightclubs. Flash has always―and everywhere―been a form of experiment, of possibility. A new entry in the lauded Flash and Sudden Fiction anthologies, this collection includes 86 of the most beautiful, provocative, and moving narratives by authors from six continents, including best-selling writer Etgar Keret, Zimbabwean writer Petina Gappah, Korean screenwriter Kim Young-ha, Nobel Prize winner Czeslaw Milosz, and Argentinian "Queen of the Microstory" Ana María Shua, among many others. These brilliantly chosen stories challenge readers to widen their vision and celebrate both the local and the universal.
Edited by James Thomas, Robert Shapard, and Christopher Merrill.
Buy it on W.W. Norton and Amazon.